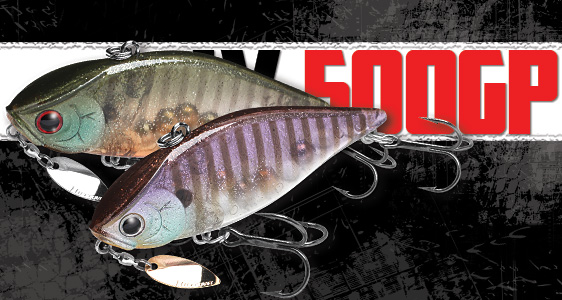 Length: 3" (75mm)
Weight: 3/4oz (23.0g)
Class: Sinking
Belly: #4
Hook Tail: #6
Max Diving Depth: 9ft (3m)
LIne:
The LV-500 GP adds a wrinkle to the popular LV lipless crankbait lineup from Lucky Craft. The original LV-500 Max already gives off both vibration and sound that bass can't resist. We've added a small willow leaf blade to the nose of it, making it the LV-500 GP. The blade adds a third element to the bait, flash. The blade does deflect off the body of the bait giving it an irregular action that will entice a bass to strike. The irregular action in the LV-500 GP makes it the perfect bait to fish not only in cover and around weeds, but in open water. Tie on an LV-500 GP and terrorize the bass with the triple threat of vibration, rattles and now flash.
La série des LV constitue la gamme de crankbaits sans bavette (« lipless ») développée par LUCKY CRAFT. Le LV constitue un must pour la prospection en « power fishing ». C'est l'outil idéal pour trouver les zones où les poissons sont actifs. Chaque modèle de LV dispose d'une profondeur de nage déterminée et il ne vous reste qu'à faire le bon choix en fonction de la profondeur de la zone à prospecter. Quand les conditions sont difficiles ou que la profondeur est importante, n'hésitez pas à pêcher à la verticale avec votre LV pour tirer votre épingle du jeu !!
Color Image
SKU
Color Name
UPC
Aurora Black
842406050520
Chrome Blue
842406050667
 TO Shad
842406051350
TO Gill
842406051367
LV500GP-137TOCR
TO Crow
842406051374
LV500GP-148GBBG
Ghost Baby BG
842406051480
LV500GP-151MSGMSD
MS Gun Metal Shad
842406051510
LV500GP-172SXCRSD
Sexy Chartreuse Shad
842406051725
LV500GP-183PTHFSD
Pearl Threadfin Shad
842406051831
LV500GP-185LHT
Light Hitch
842406051855
LV500GP-228FFMG
Flake Flake Male Gill
842406052289
LV500GP-229FFHG
Flake Flake Happy Gill
842406052296
LV500GP-230FFHR
Flake Flake Herring
842406052302
LV500GP-231FFAY
Flake Flake Ayu
842406052319
LV500GP-238GMN
Ghost Minnow
842406052388
LV500GP-250CRSD
Chartreuse Shad
842406102502
LV500GP-270MSAS
MS American Shad
842406052708
LV500GP-286MDCR
Mad Craw
842406052869
LV500GP-829MSGAY
MS Ghost Ayu
842406058298
LV500GP-830GOAY
Ghost Ayu
842406058304
LV500GP-881GNPK
Ghost Northern Pike
842406058816
LV500GP-895GBLGL
Ghost Blue Gill
842406058953