Crank Bait /
SKT 105 Mag MR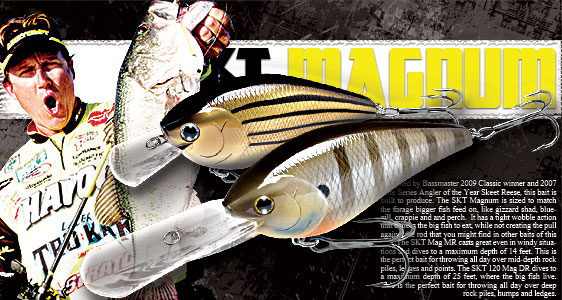 Length: 4-1/2" (105mm)
Weight: 1-29/64oz (41.0g)
Class: Floating
Belly: #2/0
Hook Tail: #2/0
Max Diving Depth: 6.5ft (2m)
LIne:
Designed by Bassmaster 2009 Classic winner and 2007 Elite Series Angler of the Year Skeet Reese, this bait is built to produce. At 110mm the Magnum MR is sized to match the forage bigger fish feed on, like gizzard shad, bluegill, crappie and and perch. It has a tight wobble action that entices the big fish to eat, while not creating the pull against the rod that you might find in other baits of this size. The SKT Magnum MR casts great even in windy situations and dives to a maximum depth of 14 feet, where the big fish live. This is the perfect bait for throwing all day over mid-depth rock piles, ledges and points.
Conçu par les soins de Skeet Reese, vainqueur du Bassmaster en 2009 et du Challenge qui vise à récompenser le meilleur pêcheur de l'année en 2007 (Elite Series Angler of the Year), ce leurre compte parmi les incontournables. Le S.K.T. Magnum a été spécialement conçu pour susciter toute l'attention des crappies, bluegills, sandres et perches car sa taille correspond à celle des proies recherchées par ces carnassiers. Grâce à son wobbling important et à sa nage très serrée, ce leurre est très efficace sur les carnassiers. Il ne tire pas trop dans la canne comme peuvent le faire d'autres leurres de tailles similaires. Le S.K.T. Magnum MR se lance très facilement à bonne distance, même par vent de face. Sa profondeur de nage est d'environ 4 m. C'est le leurre parfait qui permet de prospecter méticuleusement les piles de ponts ainsi que les abords des différentes structures. Le S.K.T. 120 Mag DR évolue encore plus en profondeur (un peu plus de 7 m) de manière à susciter l'attention des plus gros prédateurs qui vivent au fond. C'et vraiment le leurre idéal pour prospecter toute la journée les postes où la profondeur est importante.
Color Image
SKU
Color Name
UPC
SKT105MR-052ABK
Aurora Black
842406780526
SKT105MR-070SPCR
Spring Craw
842406780700
SKT105MR-112CRRB
Chartreuse Rootbeer
SKT105MR-136TOGL
TO Gill
842406781363
SKT105MR-137TOCR
TO Craw
842406781370
SKT105MR-148GBBG
Ghost Baby BG
842406781486
SKT105MR-149BBBG
Baby BG
842406781493
SKT105MR-155CKBL
Crack Blue
842406781554
SKT105MR-172SXCRSD
Sexy Chartreuse Shad
842406781721
SKT105MR-173TXYBS
TX Yellow Bass
842406781738
SKT105MR-183PTHFSD
Pearl Threadfin Shad
842406781837
SKT105MR-238GMN
Ghost Minnow
842406782384
SKT105MR-250CRSD
Chartreuse Shad
842406782506
SKT105MR-270MSAS
MS American Shad
842406782704
SKT105MR-320NTYBG
Nasty BG
842406783206